Conquerors Event – Predict to Win 250 Credits and Spectrum Variant
Vote and predict the fastest content creator to complete the Infinite league of Conquest! The community can win 250 Credits a Super Rare Spectrum variant.
20 of Marvel Snap's most popular content creators from around the globe will be participating in an event to see who can finish the Infinity Conquest league the fastest! The community can also participate by voting for their favorite player and win some prizes as well. Check out the full details below!
Details
We're excited to announce MARVEL SNAP #CONQUERORS, featuring your favorite SNAP Creators from across the globe! Each Creator will be on the clock to complete an Infinite Run of MARVEL SNAP's Conquest Mode in the fastest time possible! Quick thinking, even quicker thumbs and just a bit of luck is what's needed to win and become the ultimate Conqueror!
When: August 1, 2023

Pre-Show: 2 PM PT
Main Event: 3 PM PT

Where: Twitch
How: Cast your vote on the event page of Marvel Snap's official website before July 31 at 8 PM PT (countdown below). You must be logged in with your linked account to register your vote.
Rewards
All players who cast a vote on the event page will receive 250 Credits.
Players who correctly predict the winner of the event will receive a Super Rare Joshua Swaby Spectrum variant. Note that this is not an event-exclusive variant!
Participants
There are strong contenders including ones active in the competitive scene! Who do you think will win? Are you voting to win the variant, or your favorite creator to show your support? Let us know the comments below!
Winner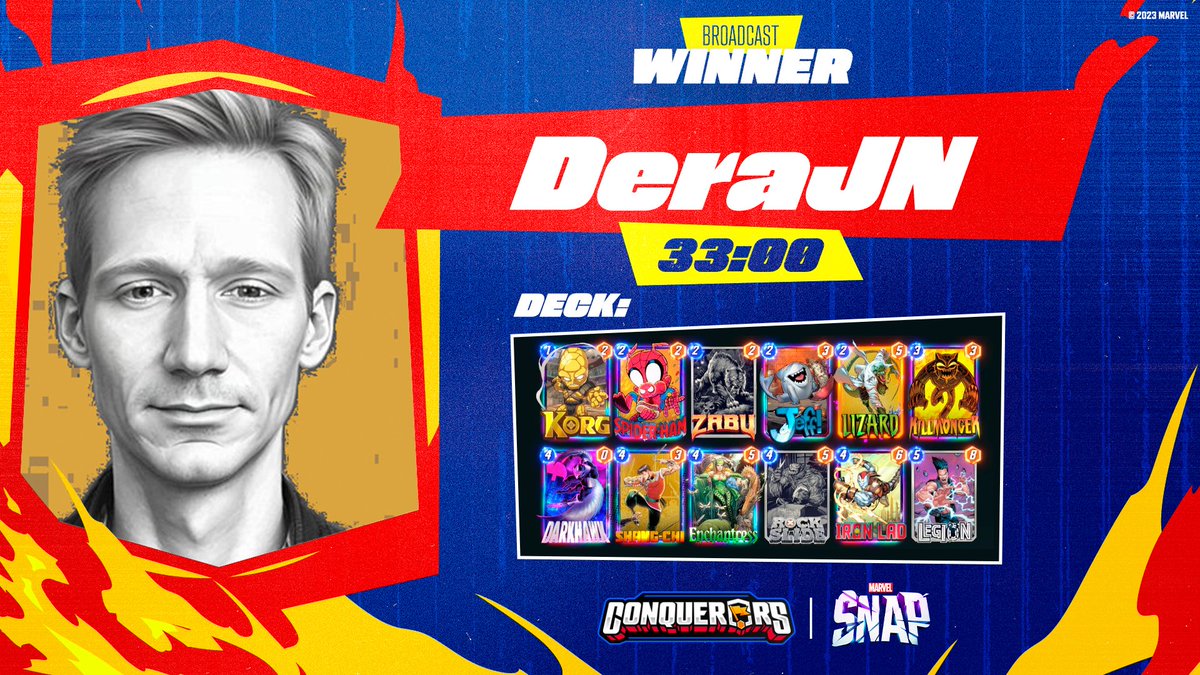 DeraJN wins the event!
Event Page
Enjoy our content? You can Support Marvel Snap Zone and your favorite content creators by subscribing to our Premium community! Get the most of your Marvel Snap experience with the following perks for paid membership:
No ads: Browse the entire website ad-free, both display and video.
Exclusive Content: Get instant access to all our Premium articles!
Meta Reports: Exclusive daily meta reports, such as the Top 10 Decks of the Day, Top 30 Cards, and Top Card Pairs tailored for you!
Team Coaching: Join our free weekly team coaching call sessions on the Discord server. Claim your Premium role and gain access to exclusive channels where you can learn and discuss in real time!
Premium Dashboard: Get full instant access to the member-only dashboard, the all-in-one page for all your benefits.
Support: All your contributions get directly reinvested into the website to increase your viewing experience! You get also get a Premium badge and border on your profile.
Special offer: For a limited time, use coupon code SBYREX4RL1 to get 50% off the Annual plan!